If you ride, you need this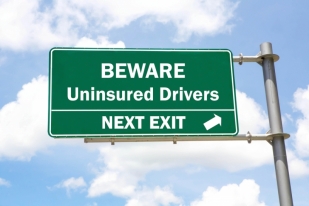 When a crash on the road results in the bike rider's death or serious injury, it often comes as a shock that the at-fault motorist doesn't have enough liability insurance to adequately compensate for all the damages caused.
No one likes to contemplate a devastating event like being injured or killed in a crash while riding their bicycle. But if you ride a bike, you need this…
People who ride bikes should consider purchasing Uninsured and Underinsured Motorist coverage (UM/UIM) in their own automobile insurance policies—as much as they can afford to buy.
It sometimes surprises people to learn that their own auto policy can respond when they are not driving a motor vehicle. But the key benefit of UM/UIM is that it pays when you are injured in a motor vehicle accident, even if you are not driving a motor vehicle. When you have Uninsured Motorist coverage, you can recover for your injuries caused by someone else's motor vehicle when you are a pedestrian, or even riding your bike—provided the at-fault driver is uninsured, or is a hit-and-run driver who can't be identified.
Underinsured Motorist coverage is similar. Say the at-fault driver has liability insurance, but only for the minimum limits required in her state. In New Mexico, that's $25,000 for each person injured, and $50,000 total for all persons if more than one person is injured. The cost of medical treatment for a bicyclist injured in a collision with a car or truck could easily surpass that $25,000 minimum limit. Many drivers carry only minimum liability insurance limits. Chances are, a person who only buys the minimum liability insurance required by law also does not have significant home equity or financial assets available to pay the total damages he caused to a victim. If you have Underinsured Motorist coverage, your own insurer will pay the difference between the at-fault driver's policy limit and the limits of your Underinsured Motorist coverage.
I've been asked, why should I buy Uninsured/Underinsured Motorist coverage if I have health insurance? The answer is, the cost of your medical care may not be the only damages you sustain in a serious crash with a motor vehicle. Your health insurance won't compensate you for pain and suffering, which can be very substantial. Your health insurance also won't compensate you for lost income if your ability to work is compromised. And your health insurance won't pay your loved ones if you die as the result of a crash with a negligent motorist.
Insurers in New Mexico are required to offer UM/UIM coverage in auto liability policies, but you aren't required to buy it. Since it isn't required, many people trying to economize decline the offered benefit. If you ride a bicycle on or near roads where motor vehicles travel, declining UM/UIM coverage could be penny wise and pound foolish.